Read Time:
3 Minute, 17 Second
How do i know what God wants me to do, "You were placed on earth to know God. Everything else is secondary."
It's an amazing and fulfilling thing to live life in line with God's design and calling on your life. But it can seem difficult and overwhelming to discover it. Here is our suggestion: Pay attention to who God made you to be.
From the writings of the Rev. Billy Graham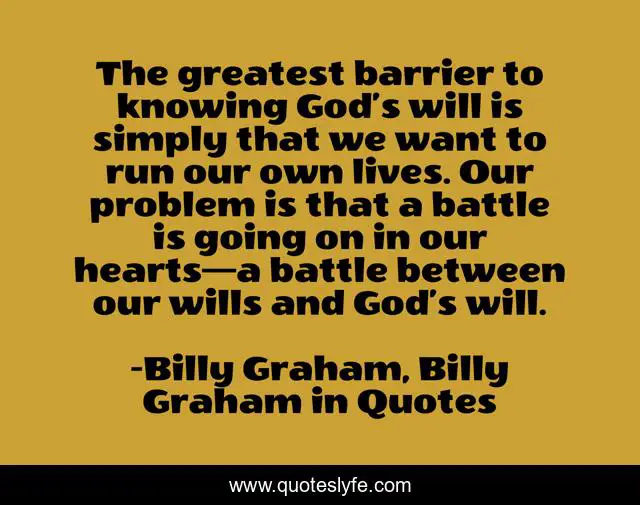 Q: I'm facing a major career decision, but how can I know what God wants me to do? Maybe the devil will put wrong ideas into my mind, and I'll end up going down the wrong road. — S.N.B.
A: Satan certainly will do everything he can to lead us astray. He is a master of deception; he may even try to persuade us that his voice is actually the voice of God. Sometimes, the Bible says, Satan "transforms himself into an angel of light" in order to deceive us (2 Corinthians 11:14, NKJV).
How do i know what God wants me to do
But the Bible also tells us that the closer we are to Christ, the less hold the devil has on us — and the less we should be concerned about being led astray. Make sure of your commitment to Christ and His will for your life — and then pray earnestly about your decision and ask God to guide you. When we sincerely want to do God's will, He can be trusted to guide us.
How will He do this? First, remember that God will never lead you to do anything that is contrary to what He has told us in the Bible. God also may guide you through circumstances — a door that unexpectedly closes or opens, for example. In addition, seek counsel from wise and godly people you can trust. The Bible says, "In all your ways submit to him, and he will make your paths straight" (Proverbs 3:6).
As a footnote, make sure you aren't seeking something that is wrong or selfish, but that you'll be in a place that is good for your family, and you can live without compromising your integrity. I often think of Jeremiah's words of caution to his friend Baruch: "Should you then seek great things for yourself? Do not seek them" (Jeremiah 45:5).
Guild: What gives you life? What are you good at? What do you love to do? What consistent patterns are noticeable in you that may be clues to your design and calling? Before he met Christ, the apostle Paul was an activist and a zealot—an articulate opponent of the church. When he met Christ, he continued to be an activist and a zealot, but he changed for whom he worked. Acts 9:20 says he at once began to preach in the synagogues that Jesus is the Son of God. He didn't change who he was by design, but he did change the Lordship in his life.
"Most of us know about God, but that is quite different from knowing God."
Please do not misinterpret the two words Know God and Knowing God, there is a difference from someone that know God and someone that know who and what God is and the things he can do, "Know" when you know someone probably you saw a guy today and you approach him and ask him please what is your name? he says' my name is Paul. Now you have know each other for two sec and all you know about him is his name. This is very different from someone you know every day, you hear him every day you connect with everyday, someone you understand.
Do you know("in") God? What he can do, and, what he wants you to do?
More to Read: ROBERT KIYOSAKI'S 5 TIPS ON NETWORK MARKETING
Donate to Our Partners: FGGAM, Christianity Today